Family firsts are always memorable and every year we try to a new outdoor activity as a family! Last year we tried cross-country skiing with our three kiddos in tow.
My son really wanted to try skiing for his birthday, but since I'm not comfortable with snow in general we settled with cross-country skiing. I have this weird fear of downhill skiing, so he's just going to have to wait. Plus cross-country ski rentals are cheaper. Honestly, my son was just happy to see snow!
We live in the Bay Area, so the only place near us to play in the snow is the great Sierras. Our kids are not used to the snow so they a snow-newbies, and really want to TOUCH the snow with their bare hands as much as they can. Before, even starting our cross-country skiing adventure we had a few mishaps of course such as taking boots off and walking in the snow with just socks on and freezing hands because they just had to touch the snow.
SIGH...
After what seemed like an eternity, we finally had all our gear had our rentals on and headed to the groomed field for some lessons. My son had his own lesson, while my husband and I (with the two kids in the pulk) had our lessons.
My baby has some separation issues so even being in the pulk was just too much for him, plus there was a little bug inside the pulk so both of our kids began shrieking at the top of their lungs. My husband had to take the baby out halfway through the lesson and held him, while I TRIED to pay attention to our instructor. I think any mom has a hard time learning something while their child is screaming.

After the longest 15 minutes of everyone's life we finally made it to the warming hut, which was the end of our lessons. Our son showed off some of his new skills, while I attended the younger two with food and naps.
During those moments, I wondered to myself "Why am I doing this?!" but as I look back now almost a year later, all I remember is heart-warming memories. Kind of like childbirth!
Of course our new adventure was for my son's birthday but my husband saw that I needed some time for myself and sent me off to go skiing alone. It was a great 15 minutes by myself where I got to figure out maneuvering skis and just enjoy the beauty of the Sierras in winters.
After everyone was fueled up and rested up we slapped on our skis and finally started cross-country skiing together! No one was screaming, except with glee every time we found a tiny down hill. We found a perfect spot to build a snowman, have a snowball fight and crawl in the snow.
The sun was starting to go down and our kids were a little wet so we decided to head back to the car. My baby was not happy being carried by dad anymore, so I did what was natural and strapped him to my back. I don't know if that's proper cross-country skiing etiquette but I definitely got some stares and heard whispers of "Oh my goodness, is that a baby on her back?". FYI, we weren't going fast at all and there weren't any kids out there anyways, so we definitely stuck out.

Then the fun of the snow was starting to wear off, and the screaming commenced because socks and gloves were wet. We hustled as fast as we could to get back and made my babies warm.
I love that my kids push us to try new outdoor activities which are out of my comfort zone. Even though there was lots of crying and screaming, the kids had fun and look forward to doing it again this year.
Snow Exposure: Since our kids exposure to snow is few and far between they are "snow-newbies". More visits to the snow will break their desperate need to touch and roll around in it the second they see it
Winter Clothing: The same concept as above, they aren't used to snow clothing and understanding real cold weather. Gloves need to stay on, as well as boots!
Snacks: We left the snacks in the car!! What?! Even these experienced parents make mistakes too. Our kids energy levels were dropping and we had no snacks. We won't be doing that again.
Location & Travel Information
We spent the night at a wonderful family owned lodge, Tamarack Lodge at Bear Valley. I do recommend this lodge for families with kids! We rented our skis, pulk and had lessons at Bear Valley Cross Country just down the Hwy 4 from the Tamarack Lodge.*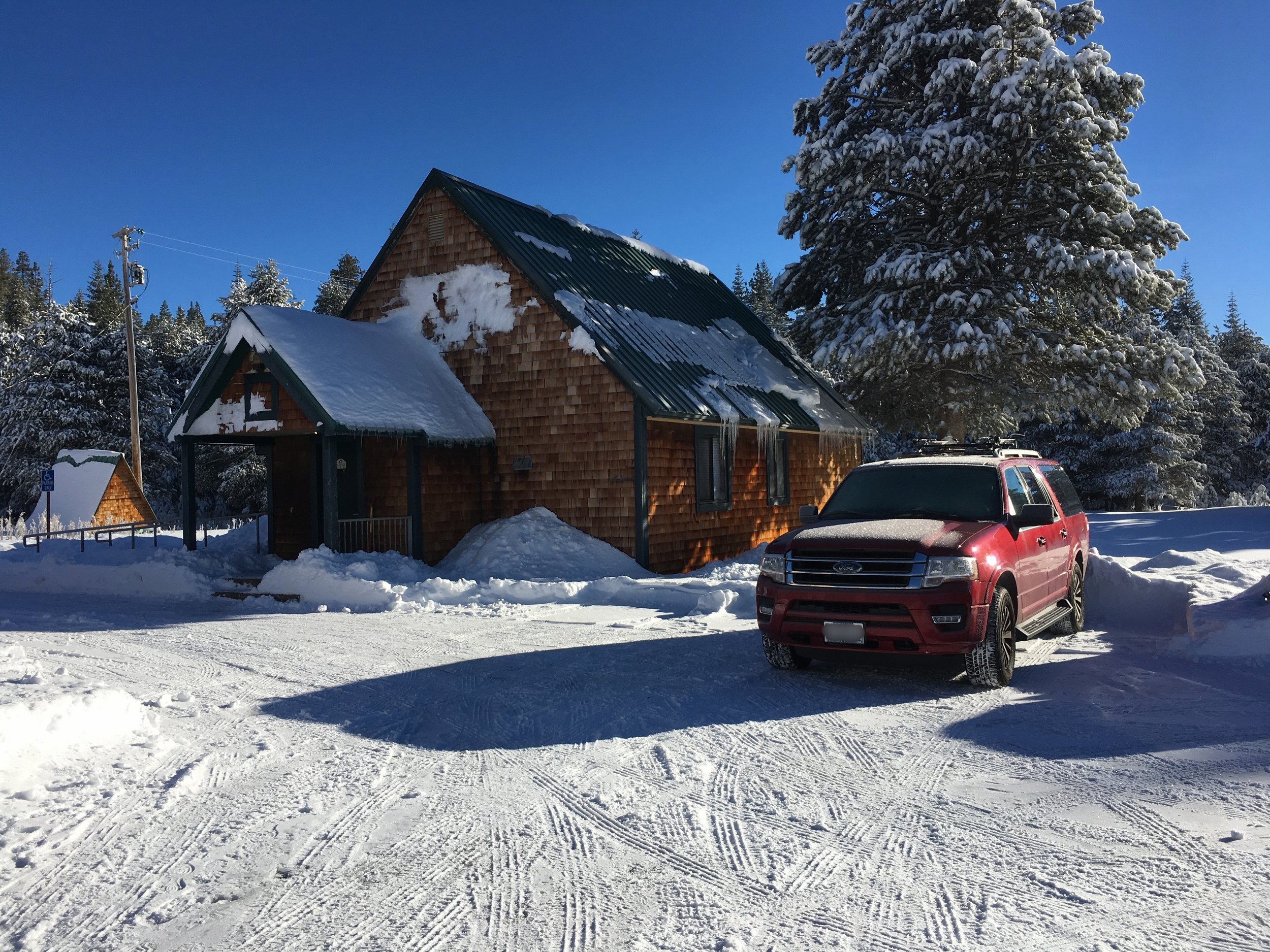 *This is NOT a sponsored post. We paid for our own lodging and ski rentals and I truly had a great time and the staff at both locations were very accommodating and friendly. I highly recommend both locations for families!