Two Bay Area families consisting of four adults and eight kids thought of a crazy fun road-trip to travel from the San Francisco Bay Area to Rocky Mountain National Park in Colorado. Our families met over Instagram, so over course we needed to create a hashtag for our adventures to Colorado and we combined our last names Avery + Fisher to create #FaveRoadtrip2017. By the way, our friends The Fisher's are co-owners of the best coffee shop in the Bay Area, Devout Coffee so if you are in the area check them out they are in Niles district in Fremont, CA.
Our families styles are both kind of "Fly by the seat of one's pant" so we had a tentative itinerary for our two week road trip but nothing was set. All we knew was that we were going to take almost ALL of our outdoor gear with plans of hiking, biking, climbing and even snowshoeing in the Summer! People kept asking us for our itinerary but we didn't have an answer, so now that our road-trip is finally over I can share where and how we did our 16 day roadtrip. There was lots of coffee involved, lots of dirt-covered kids (and parents) and lots of forever memories made.
I can't fit a 16-day itinerary into one post, so I'll be sharing every week, a new section of our #FaveRoadtrip2017! So make sure you are following "Chasqui Mom" on social media for updates.
Day 1: San Francisco Bay Area to Eastern California Sierras - Lundy Canyon Campground
Our first campsite took us to the Eastern Sierras near Mono Lake, Lundy Canyon Campground. Do you ever wonder what the other side of Yosemite looks like? Well this is what the other side looks like. I wish we had more time to explore this area, but this is a great stop-over campground to enjoy the aspen trees and the sounds of fresh snow-melt river.
Mono County - Lundy Canyon Campground
Lundy Lake Rd, Lee Vining, CA 93541
Cost: $16/night - Cash or Check
Water: Non-Potable
Tent Site and some RV-Friendly Sites
Pit-stop: Carson Pass - Snowshoeing to Frog Lake
On our way to Lundy Canyon Campground, we attempted a 1-mile hike on the Carson Pass - PCT to Frog Lake which we have done a couple times before but this past year's snowfall was too great and we never made it to Frog Lake. We still had fun on our 1/2 mile hike in the snow.
Day 2: Eastern California Sierras to Gooseberry Mesa Campground BLM, Hurricane, Utah
We were aiming to be as close as possible to Zion National Park for the following day trip there, so we had a long day driving to Southern Utah. This is a fantastic primitive campsite at Gooseberry Mesa which is Bureau of Land Management lands. It is a very rustic area, with beautiful views of Zion National Park. While visiting Zion NP the following day, a ranger was amazed that we camped there with so many children. Be wary for low-lying cactus and the mesa cliffs.
Gooseberry Mesa BLM
Unnamed Road, Apple Valley, Hurricane, UT 84737 (map)
Cost: Free – NO WATER
Primitive campsites: Tent sites, Not suitable for RV's but we pulled a trailer with our SUV.
NOTE: The park asks to make camp in established campsites.
Mountain Biking at Gooseberry Mesa
This area is KNOWN for mountain biking. Even though we didn't get explore the awesome trails this park has to offer, the moms were able to ride down from our campsite to the highway for a little ride.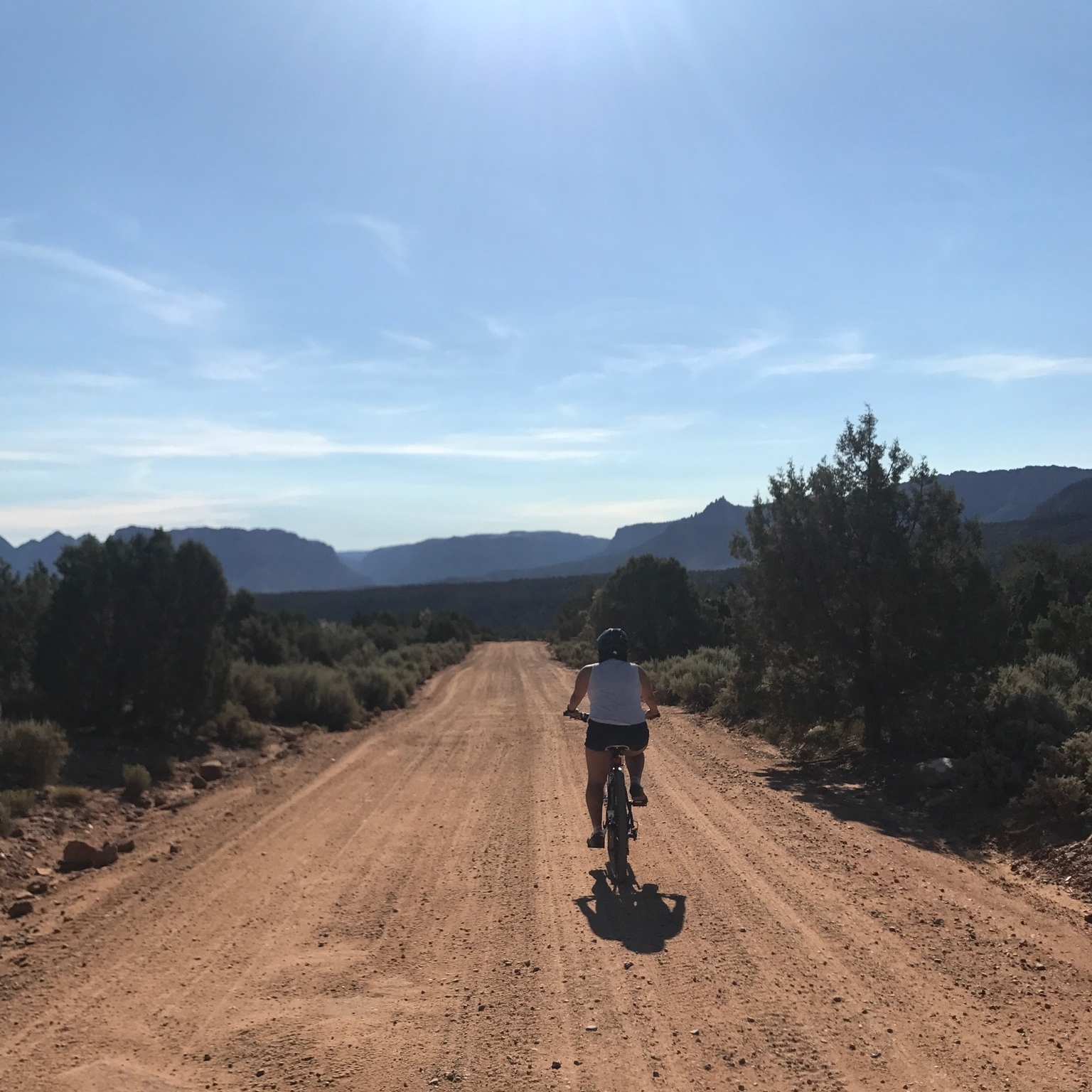 Pit-stop: Death Valley, NV and Las Vegas, NV
This section is the Desert! While traveling through Nevada the temperatures reached 114 degrees Fahrenheit. There is definitely a tourist trap in Beatty, NV (Death Valley - Nevada side) called Death Valley Nut & Candy. This is a good spot to stretch your legs and get some ice cream before the long haul to Las Vegas. Our next pit stop was Las Vegas, which has a plethora of activities and locations that you could stop at but we chose to go to Walmart to stock up on supplies.
Things to Come...
Day-Trip to Zion National Park and hiking The Narrows!
Day 3-4: Zion National Park to Moab, Utah
If you just can't wait, check out our hastag #FaveRoadtrip2017 on Instagram to see where we went.
Thinking back, I honestly don't know how we made it those first two days, since it takes a little while to get in a groove setting up camp and breaking down camp every morning. It was definitely a lot of work and we totally made some mistakes, like drinking non-potable water at Lundy Canyon Campground (no one got sick), learning how to backup with a trailer and walking around in sandals with low-lying cactus. So if you are getting ready to embark on a road-trip with your family, I encourage you to just go with the flow of things and remember road trips are FUN!
You can also join in on my Social Media, which is updated daily with outdoor activities. Join in on the conversation by leaving a comment below!